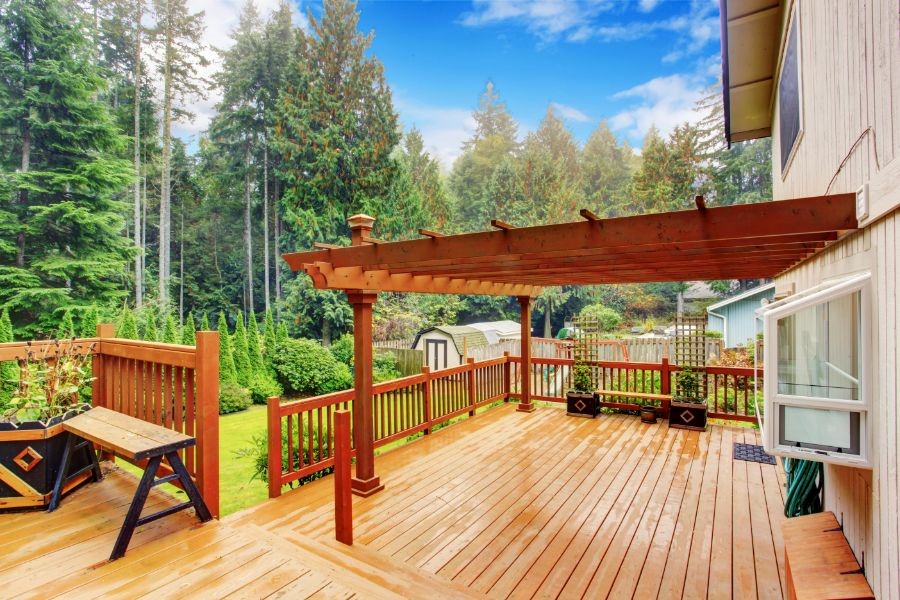 Decks expand living space outdoors, but the elements can deteriorate these exposed structures over time. Effective weatherproofing is crucial when it comes to protecting your investment and preventing safety issues such as loose boards or railings.
Planning and Design Strategies
Weatherproofing considerations start during the planning and design phase before construction even begins. Optimal overhang sizing of 2-3 feet helps protect the deck boards and structure from excessive water exposure. Proper site grading directs rain runoff away from the deck perimeter. On sloped hillside sites, incorporate terracing or subtle retaining walls to reduce erosion and moisture buildup under the deck.
Incorporate wide stairs with multiple stringers and support posts for strength. Open-sided stairs allow ventilation and drainage. Plan the overall deck layout to minimize seams between boards and complicated joints. This provides fewer entry points for water infiltration. Use 6×6 beams for heavyweight structural support against forces. Design the decking spacing, pattern and gaps to allow drainage between boards. An open lattice substructure or clear polycarbonate decking combats pooling.
Material Selection for Weather Resistance
The right building materials make all the difference for deck weathering ability. Naturally decay-resistant woods like cedar, redwood or cypress have built-in durability, or pressure-treated pine …